Moka Borbone DECISA blend - 2Kg saving bundle
The Decisa blend is an intense and robust blend: creamy with an intense taste and a marked flavor
A firm character that evokes the typical tradition of true Neapolitan coffee. The result of a fine selection of blends, created for a full-bodied espresso. Rich and creamy like the one from the bar. News New package containing soft bag with aroma-saving valve. With this new system, the maximum fragrance of the product is guaranteed, ground and freshly toasted, packaged in a protective atmosphere, without letting the aromas evaporate first, as is normally done with rigid bags
Buy the 2kg savings bundle and you will receive 8 packs of 250gr each!
Price reduced from

€30.40

to
€26.60
sfra.details.button.wishlist
Add to wishlist
Remove from wishlist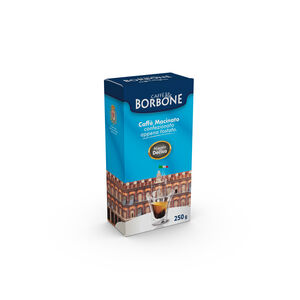 Borbone Moka DECISA Blend 250gr pack
Decisa blend is an intense and robust blend: creamy with an intense taste and a marked flavor
A firm character that evokes the typical tradition of true Neapolitan coffee, thanks to a fine selection of blends, created for a full-bodied espresso. Focus on! The new pack has soft bag with a aroma-saver valve. This new system we guarantee the best fragrance of the product: ground and just roasted, packed in a protected atmosphere. Flavours do not evapore as it usually happens with rigid bags
Save money by purchasing the 2Kg bundle!
Caffè Borbone ground roasted Decisa blend in 250g packs. Ideal for moka pots and automatic machines. You will receive 8 packs of 250 grams each.
We will ship in 1/2 working days
Free Shipping promotion ordering at least 40€ for Italy and 55€ for abroad
Do you need help?
For Information and telephone orders call us at the toll-free 800.811.137 available from Italy. From abroad you can contact us at +39 081 18 92 00 46.