Light & Nicaragua tasting kit 100 pods
Buy the Borbone tasting kit and try the new blends: Light with 50% less caffeine than the Blu blend and Nicaragua Single Origin Fine Robusta!
Price reduced from

€20.90

to
€19.85
sfra.details.button.wishlist
Add to wishlist
Remove from wishlist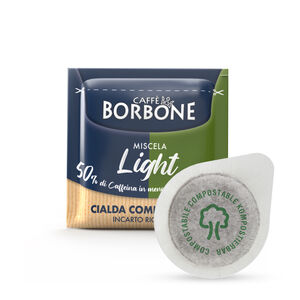 LIGHT blend 50% Blue, 50% Dek - 50 COMPOSTABLE Pods
Espresso pod 44 mm Caffè Borbone COMPOSTABLE IN RECYCLABLE WRAP
Coffee is a pleasure you can't give up, but don't want to exaggerate with caffeine? No problem: whether you're having your third coffee of the day or you want to enjoy a good espresso after dinner without fear of a sleepless night, the new Caffè Borbone Light Blend pods are the ideal choice: finally you can have all the taste of authentic Neapolitan espresso, with less caffeine.
50% Blue Blend, 50% Dek Blend, 100% friends of nature, the Blend Light pods are compostable and have a completely recyclable paper wrapping.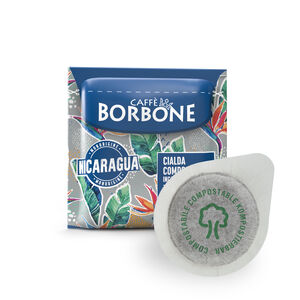 NICARAGUA - 50 COMPOSTABLE pods with recyclable wrapping - FINE ROBUSTA blend
With Nicaragua Single Origin Fine Robusta, Caffè Borbone glorifies the concept of "terroir".
In Nicaragua, some of the best coffee varieties in the world are grown.
This is why we have chosen it to import a coffee of superior quality, perfectly balanced, with a soft, rich and full-bodied cup, sweet and without too strong acidity.
This very fine Robusta is grown at 250 meters above sea level, in a luxuriant area located on the Atlantic side, exactly the center between the Equator and Tropic of Cancer.
Tasting kit of 100 pods ESE paper filter Caffè Borbone in the new Light and Nicaragua blends, size 44 mm, 100% compatible with all machines that use the Easy Serving Espresso system. The kit contains 50 pods of Light blend (each pod contains 50% less caffeine than the Blue Blend) and 50 pods of Nicaragua blend (ground coffee from a blend of selected single-origin Nicaragua beans).
Make the right choice for a better world, choose a 100% nature-friendly product: the sachet can be differentiated in the paper, the pod in the wet.
Roasted and ground coffee, packaged in a protective atmosphere in single-serving pods.
Light blend: caffeine content less than 1.2%.
Nicaragua blend: ground coffee from a blend of selected single-origin Nicaragua beans.
Each pod contains 7.2 grams of coffee.
We will ship in 1/2 working days
Free Shipping promotion ordering at least 40€ for Italy and 55€ for abroad
Do you need help?
For Information and telephone orders call us at the toll-free 800.811.137 available from Italy. From abroad you can contact us at +39 081 18 92 00 46.